CNC Corrugated Carton Paper Box Cutting Machine Price
With more than 25 years in cnc cutting machine industry, RUIZHOU has become major driving force for packaging box cutting machine in China by technology innovation, and talent developing.
RUIZHOU

China

10-15 Days

150 sets per month
Model: RZCRT5-1813E

Cutting Area: 1800 x 1300mm
Accuracy: 0.1 -1.0mm
CE ISO
---
RUIZHOU CNC Carton Cutting Machine is specialized in carton, box, packaging making, especially for samples making and small production. Below is the details of CNC Carton Cutting Machine.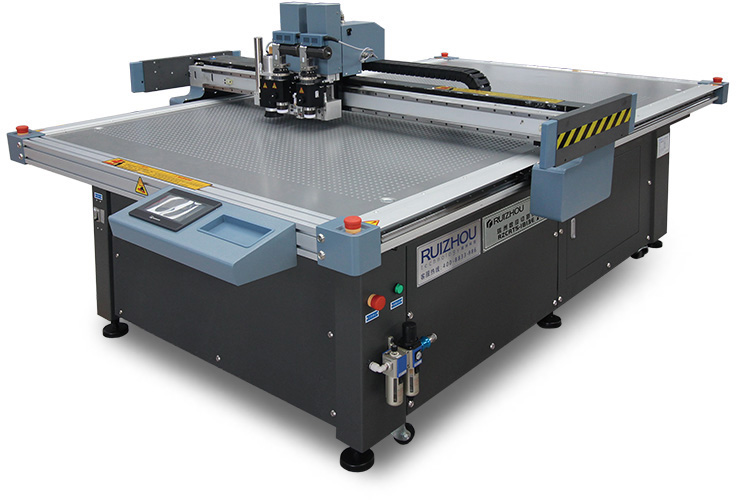 Technical Parameter:

Mode

RZCRT5-1813E

Cutting Area

1800mm x 1300mm

Working Character

The cutting machine runs with the computer simultaneously, the data can be transfered fast, and can be used continuously.

Cutting Speed

100-1200mm/s

Cutting Thickness

0.1mm-50mm, can be adjusted according to the material and customers' requirement.

Cutting Materials

Corrugated paper, Honeycomb board, Plastic, Rubber board, Greyboard, Leather, PVC, PU, Acrylic, composite materials, etc.

Knife

Oscillating blade head, Milling Cutter, Hobbing Cutter, Creasing Wheel

Applicable Pen Type

Common signing pen, Oil pen, ball-point pen, Silver pen

Mesaure to Fix Material

Divisional vacuum absorption

Mechanical Resolution

0.07mm

Software Resolution

0.025mm, 0.01mm, 0.1mm (optional)

Interface of Transmission

Standard parellel and serial interface

Buffer Capability

Once fast transfer

Command

HP-GL and GP-GL compatible mode

Digital Control Panel

Liquid crystal display and touching button

Transimission Materials

Staight line guide track/ Synchronous belt/ Imported synchronous belt

Motor

Servo motor

Cutting Blade Rotate

Vibrational cutting head 18000r/min, milling spindle motor 4000-1000r/min

Air Pump Voltage

7.5KW






Machine Working Voltage

AC 220V ± 10%, 50HZ

Air Pump working Voltage

AC 380V ± 10%, 50 HZ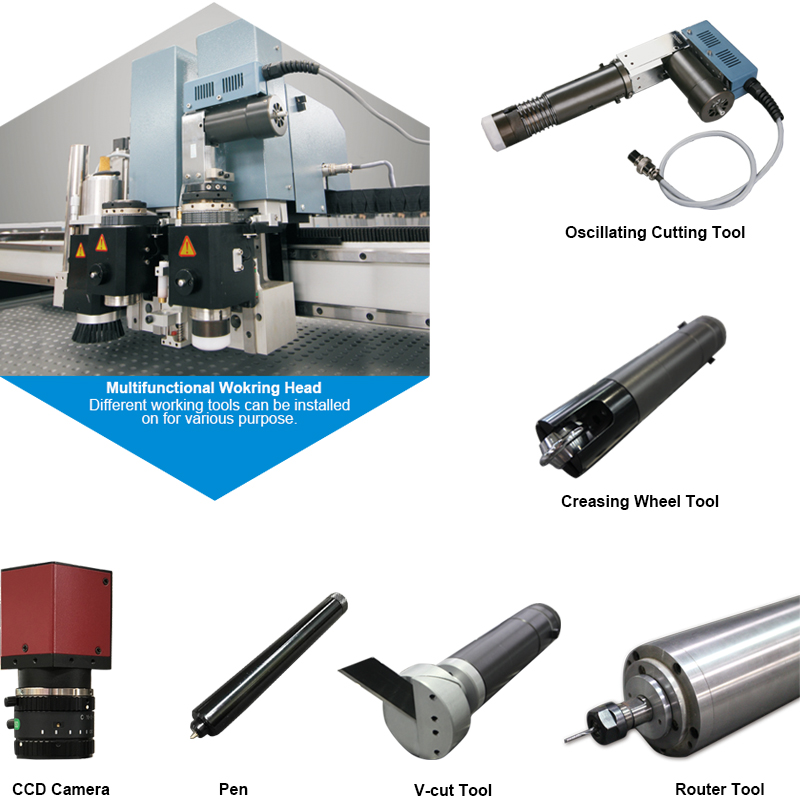 The Tools and Functions of CNC Carton Cutting Machine:
1. Oscillating knife:
It is fast, accurate and no burning nor smell.
2. Creasing wheel:
A set of creasing wheel with four different sizes can make good folding lines according to your different materials.
3. 45 degree cutting knife:
This is special for V groove making when it comes to materials like honeycomb board, gray board and other relatively thicker materials.
4. Milling knife: This is specialized for Acrylic and thin wood material cutting.
5.CCD: camera, professional for positioning for print materials. Automatic and precise.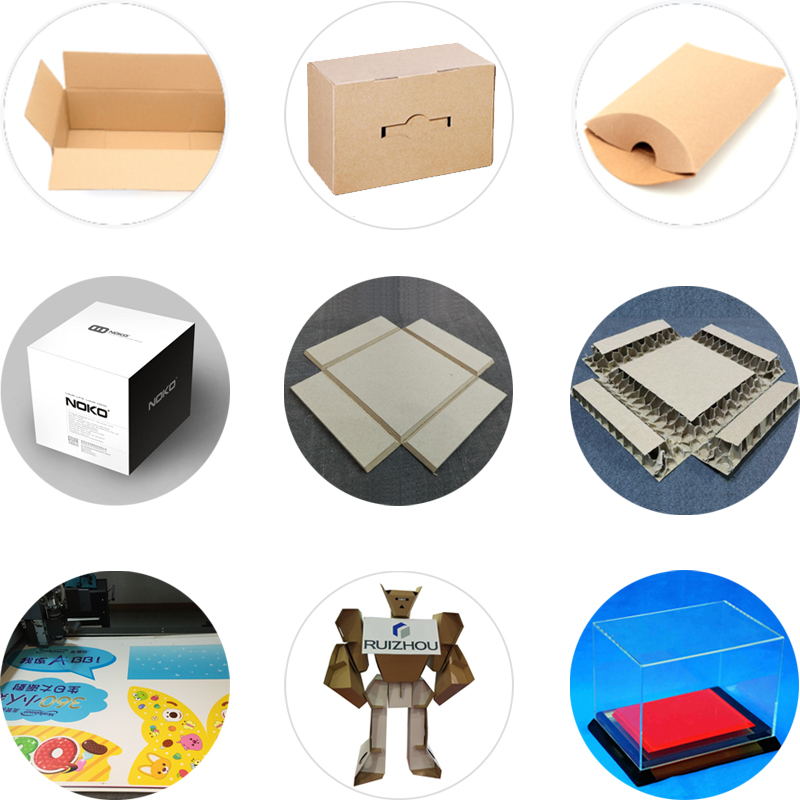 1.Fast
The cutting speed of Ruizhou carton cutting machine is 3 to 5 times the speed of traditional manual cutting, with maximum cutting speed of 1000mm/s to 1200mm/s. It's more suitable for the customers who are receiving orders
with diverse styles and short lead time.
2. Accurate
All operations of Ruizhou box sample cutter are computerized to simulate the operation process exactly, which rules out the interference from the factors of the workers' mood, knowledge, tiredness and other personal factors
happened in traditional cutting, thus avoid hidden waste and ensure the quality of product.
3.Saving
Ruizhou carton cutting machine is connectable to many CAD software. Customers can make timely correction to the patterns during cutting, thus meeting the fast-changing market demands through quick sample making
and error correction. You are supposed to achieve 2-3 days of time advantage over your competitors in terms of correction of the same kind of samples.
4.Smart
The cutting machine is a computerized CNC cutting machine. All the sharp turnings can be controlled on the machine. The depth can be adapted to your needs. Nesting is more convenient and flexible. The cutting knives
can be changed.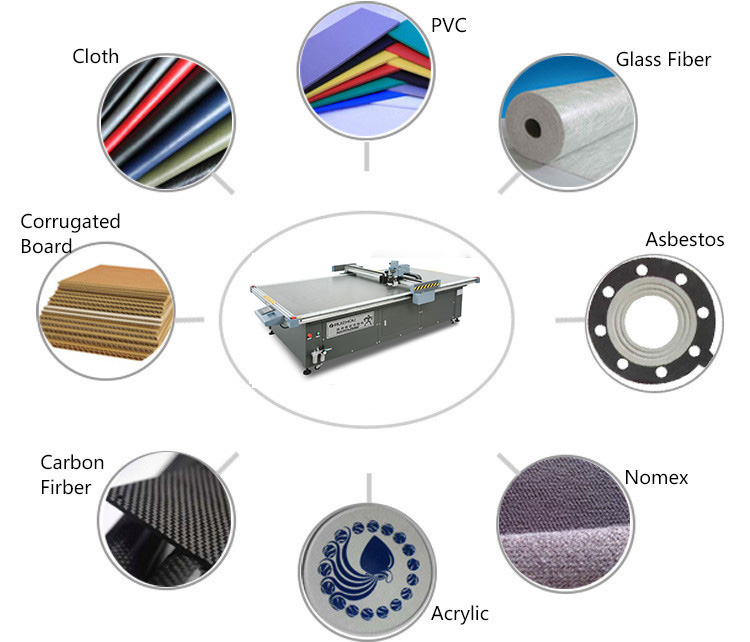 | | | | |
| --- | --- | --- | --- |
| Model | Cutting Size | Cutting Head & Cutting Arm | Feeding (Rolling) System |
| RZCRT5-1510E | 1400mm x 1000mm | 1 & 1 | No |
| RZCRT5-1813E | 1800mm x 1300mm | 1 & 1 | No |
| RZCRT5-2516E | 2500mm x 1600mm | 1 & 1 | No |
| RZCRT5-2516EF | 2500mm x 1600mm | 1 & 1 | YES |
| RZCRT5-3016E | 3000mm x 1600mm | 1 & 1 | No |
1.All the models have one standard cutting head. With a group of different knives, hobbing cutter, pinch roller and pen. It can do common cuttings for many different materials, creasing and marking.
2.For all the cutting models one more optional cutting head can also be added according to your need. It will add three more functions: mill-cuting, v-cutting and punching.
3.Some big or long cutting machines, like RZCRT5-2516EF, can be equiped with an automatic feeding system.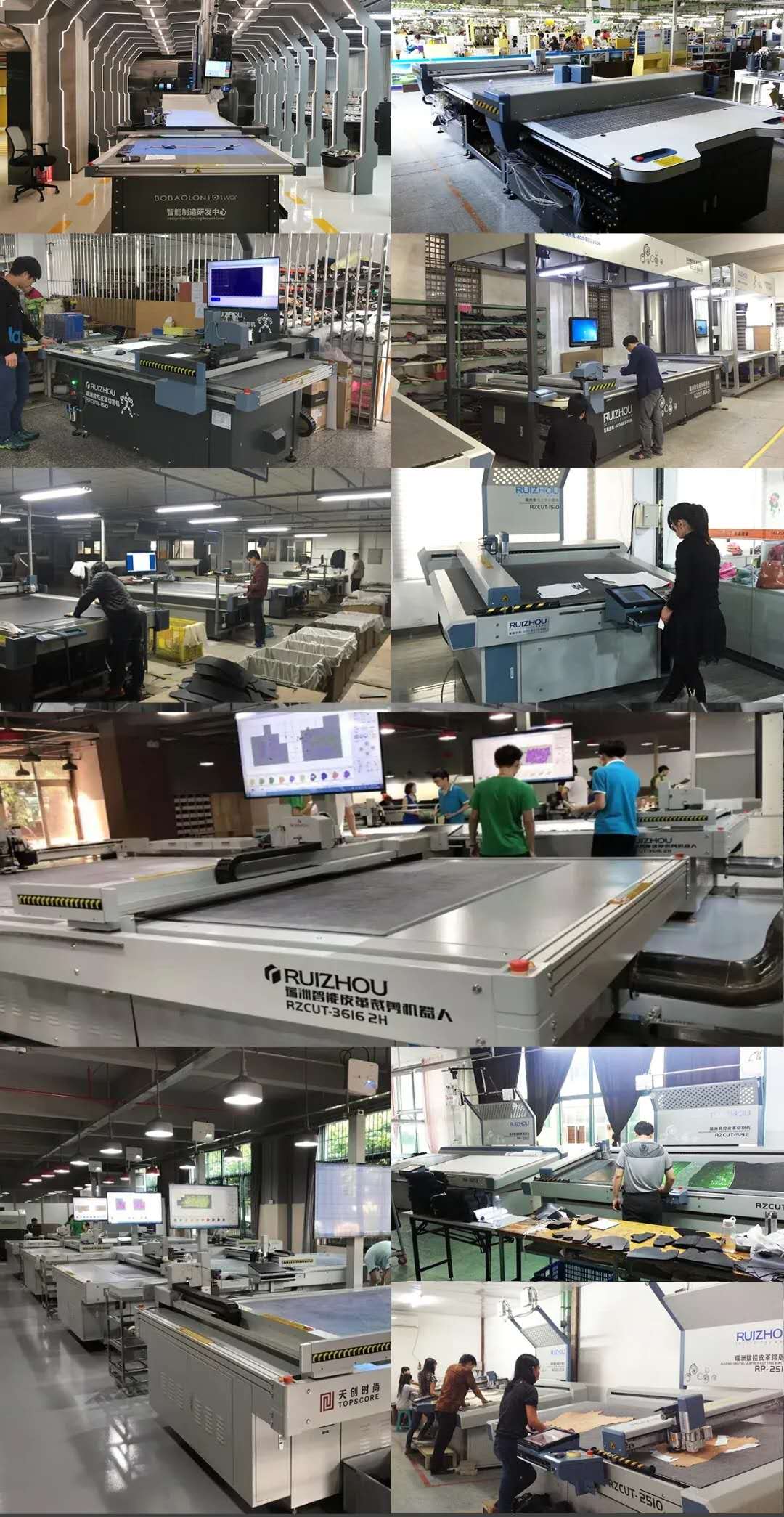 Customer Collaboration:

Excellent product quality and perfect service for us won the unanimous trust of customers at home and abroad.
Guangdong RUIZHOU Technology Co., Ltd is a national Torch Plan High-tech Enterprise, specialized in the research, development, sales and technique service of soft material intelligent CNC cutting machine.
RUIZHOU Technology has been dedicated in supplying informationized and automatic design and whole solution of intelligent production for a broad community of soft material manufacturers, which achieves the realization of the confluence of informatization and industrialization.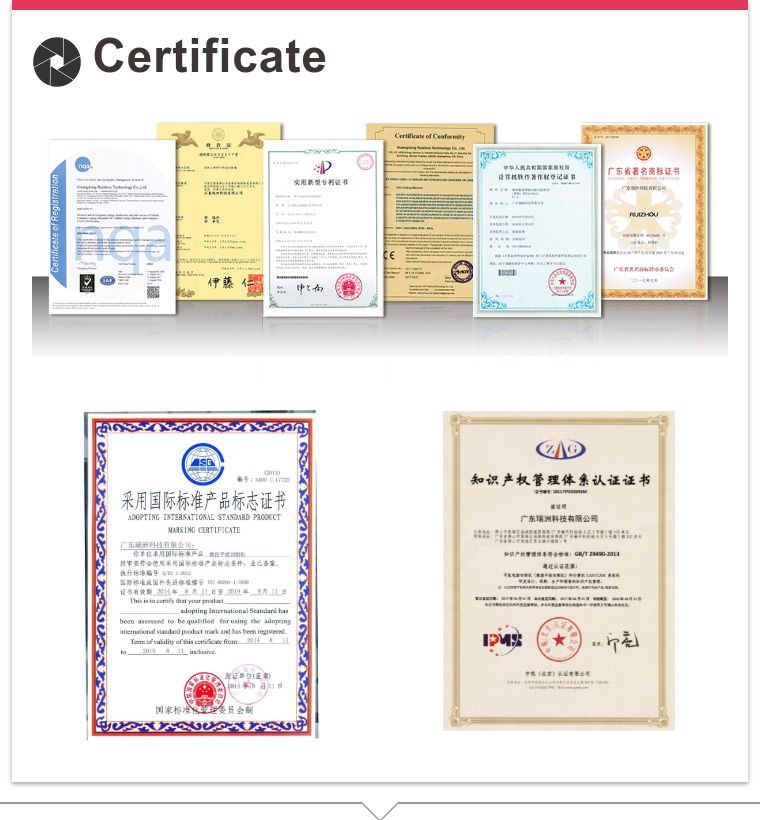 In order to make the product export successfully to EU, we have passed CE safety certification.
Q1. When RUIZHOU is founded ?

A1. RUIZHOU is founded in 1995, we have more than 25 years experience for cnc cutting machine. Our Boss Mr. Guo is in this industry since 1990. GUANDDONG RUIZHOU TECHNOLOGY CO., LTD.
Is registered in 2004, as a new image to be in CNC Cutting Machine industry.
Q2. What is the delivery time?
A2. It is flexible, when luckily there is stock or newly improved models or produced for exhibitions worldwide, you can get it very soon.
1> Normally, our delivery lead time is around 15 to 25 days for main cutting machine in standard.
2> If change some settings, or several sets orders to form production line, lead time is about 25-35 days.
3> For some special request or solution, we will communicate with production dept. firstly before we confirm delivery time to you.
We hope you catch time to order in advance, not in a hurry, so we can have more time to debug strictly in factory for you.
Q3. What's the warranty ?
A3. The warranty is 1 year, but not including the easy-worn spare parts, such as blade, mat, etc. To tell you honestly, during these years, we have been improved a lot for durability of machine from frame to function, many old clients reorder new RUIZHOU machines with old machines running normally even after 6 to 10 years!
You can enjoy whole lift maintenance and technical consultant, support!
Q4. What's your advantage ?
A4. 1> We are professional in cnc cutting machine more than 25 years experience, the stability and service is worth your trust;
2> Some of our technician with more than 15 years experience, some of them can speak English fluently;
3> all the machine will be tested final checked before shipping to ensure the stability, and we send video to you for confirmation.
Q5. What is configuration of your equipments?
A5. 90% of our electrical components are originally imported, in order to make sure the service life of machine and stability. The configuration detail shall be shown in our quotation. All the configuration is set more reasonably after all these years' practical experience.
You are welcome to contact us for further information!
Get the latest price? We'll respond as soon as possible(within 12 hours)